REBOOT (camp) – 2 Weeks – September 2017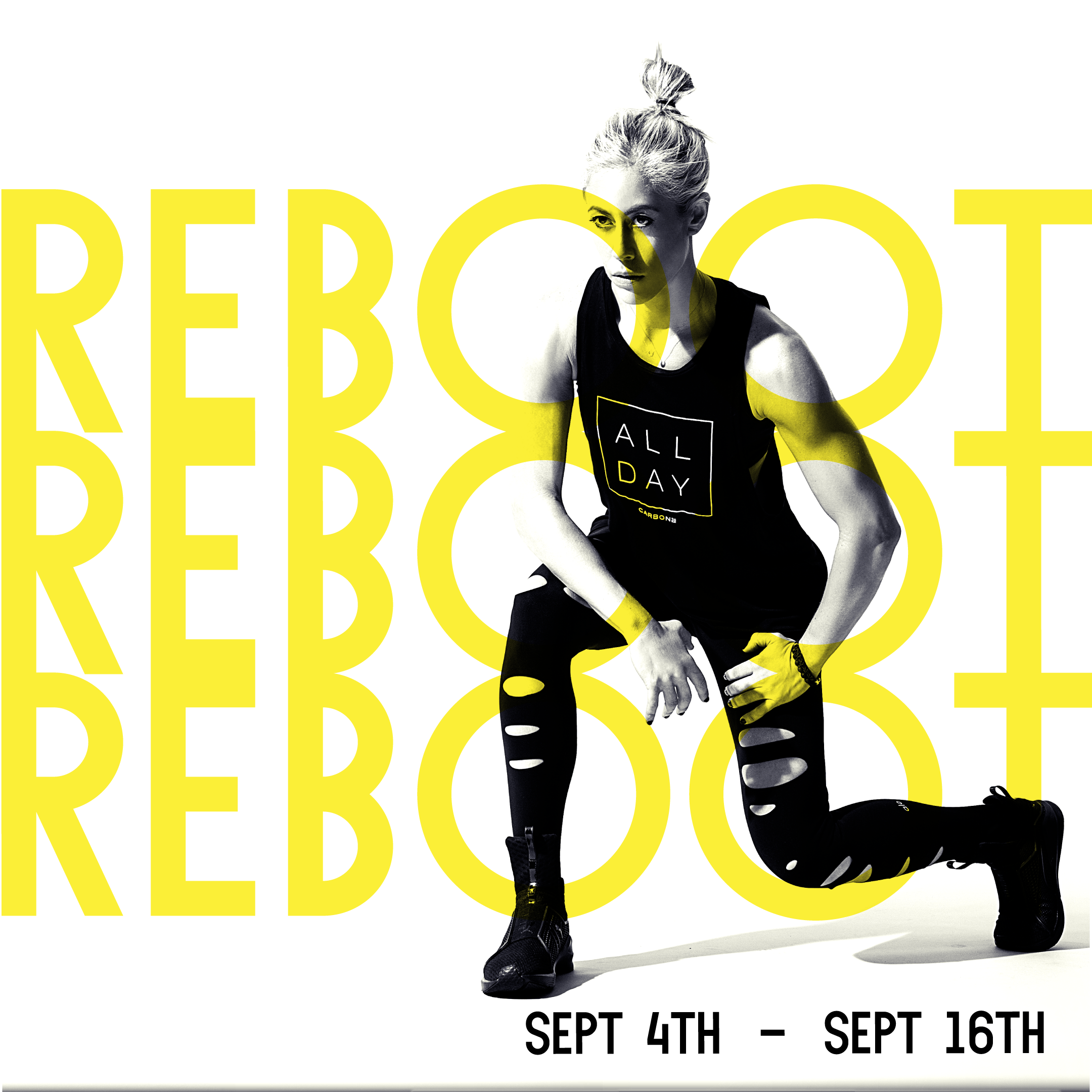 REBOOT (camp) IS BACK!!! 
Camp Includes: 6 team bootcamp workouts, 2 weeks of fresh lean Klean
food delivery, plus 7 indoor cycling classes, 2 rest days, 1 double, & 1 team ride at Fly.
Start Dates:
Meal delivery begins (and potential rest day OR Flywheel class): Monday, September 4th
Bootcamp starts: Tuesday, September 5th
3 bootcamps per week for 2 weeks
FIRST WEEK (Days & Times)
Tuesday         *September 5th – Team 7:15 a.m.–8:30 a.m 
Thursday        September 7th – Team 7:30 a.m.–8:30am
Saturday        September 9th – 12:30 p.m.–1:30 p.m.
SECOND WEEK (Days & Times)
Tuesday          September 12th – Team 7:30 a.m.–8:30 a.m. 
Thursday        September 14th – Team 7:30 a.m.–8:30 a.m.
Saturday        September 16th – LAST DAY FLY/TEAM CAMP DOUBLE
                          9:30 a.m. Fly Team Ride followed by 12:30 p.m.–1:30 p.m. Team Camp
CALENDAR OF DETAILS: *Please take note of early start times on camp day 1, 09/05.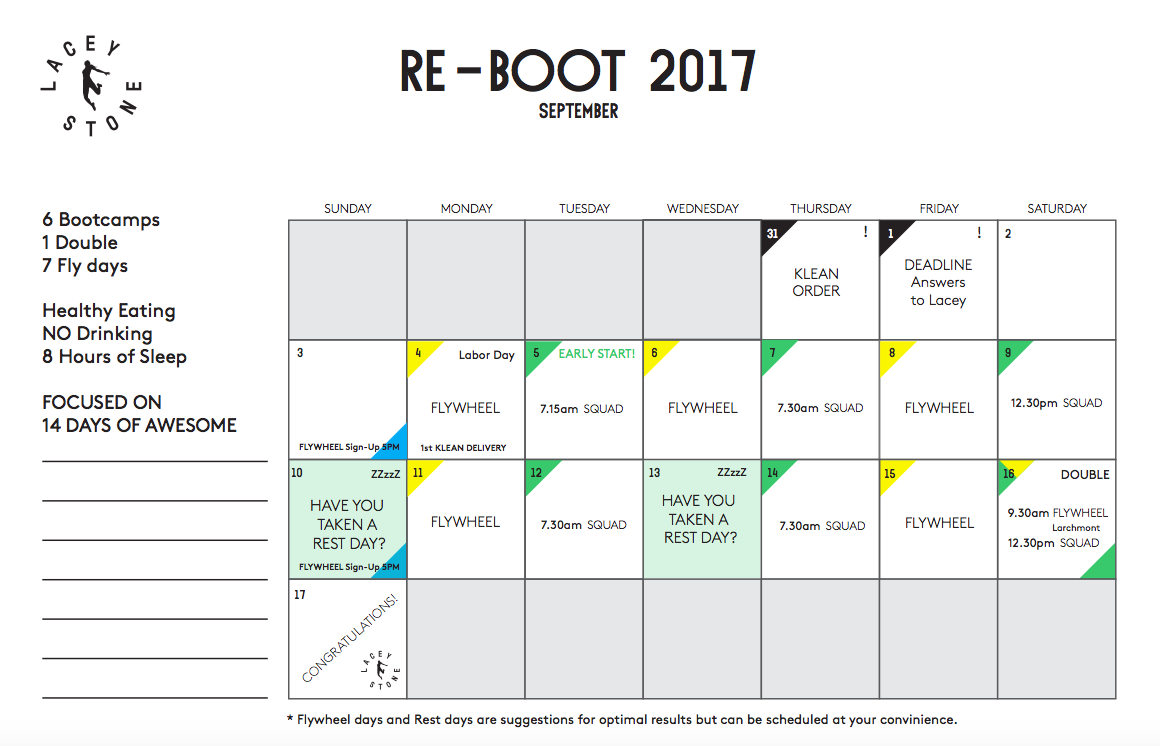 Where:
Lockbox LA – 5925 W. Pico Blvd., 90035, almost exactly between West Hollywood and Larchmont.
What & Why:
6 bootcamp-style workouts designed to lean you out and lose those extra pesky 5-10 lbs. The bootcamps are athletic-inspired focusing on your ass, abs, legs, and Arms. High energy, high cardio . . .  BIG RESULTS!
Motivation:
24/7 attention at camp and outside of camp. Bi-weekly email motivation and follow-up directly from me. A consistent team of determined people working along side you to get the most out of these 2 weeks. A strong team accelerates everything.
Healthy Eating:
Along with the ass-kicking workouts, all participants must participate in the Klean food delivery service. Hard work without a healthy diet is a waste of time. Let's make the most of these 2 weeks by working you from the inside out. But Lacey,  "Food delivery service is too pricey."  My response: "I want you to focus on your health and happiness for the next 2 weeks. A healthy, happy, sexy body is priceless . . . . If you don't invest in it now, you'll have to 'pay' for it later. You have one body to live in so it's in your best interest to love it with everything you have. Take these next 2 weeks and splurge on you."
No Alcohol: For 14 days, we are not drinking.
Cost of Camp:
Team Camp – 6 One-Hour Team Tailored workouts: $650
Klean Discount & Offer: 2 Weeks of Results-Tailored Nutrition: Klean
For BEST results it's mandatory that you commit to the Klean food program. Klean normally costs $336/week for the Get Going Special, or $672 for 2 weeks, but we are going to give you $50 off any package you choose. 
Flywheel: Standard monthly member rates apply.
TOTAL COST: $650 + $622 (you gotta eat) = $1,272
Sign-up now: This camp has limited spots. Email tiffany@laceystonefitness.com with any questions and to receive an invoice to secure your spot.

BACK