My latest healthy food obsession: Quaker Overnight Oats!
TEAM.
It happened.
I have a new breakfast obsession.
As you know if you've been following me for a while, I'm not too much of a cook. I like to, but my life is just too (happily!) busy to do anything complicated. But I am all about simplified meal prep and keeping things as cost effective as possible.
So when Quaker approached me to try out their new Overnight Oats, I. Was. So. Game. Full disclosure, this post is sponsored by The Quaker Oats Company, but all opinions are mine.
They sent me their 4 different flavor options made with oats, fruits, quinoa, flaxseed, and nuts. The oats contain no artificial flavors and no added colors, which is rad because abs are made in the kitchen, homes. All I had to do was add almond milk to my chosen flavor (you can use whatever kind of milk you like, but I prefer nut milks for a variety of reasons) . . .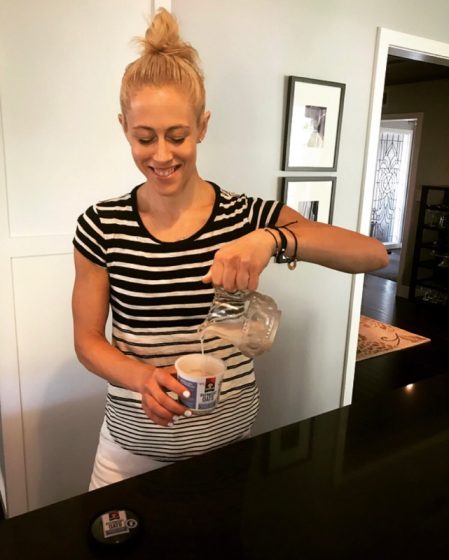 Stir it up, replace the lid, and place in my fridge to cold-steep overnight while I got my beauty sleep on . . .
Wake up the next morning, ACTUALLY SIT IN MY KITCHEN (novel!), and eat! If I don't have to prepare my breakfast in the morning, like I normally do, and get it done the night before, I actually have time to sit down and enjoy it when I wake up. GENIUUUUUS!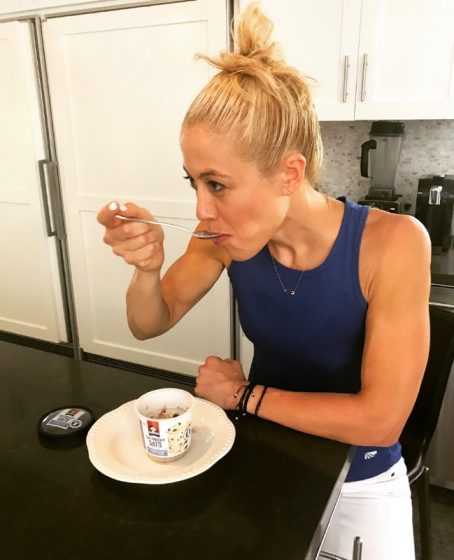 Guys, it's so important to take care of ourselves, mind, body, and soul. I'm a huge believer in slowing down and experiencing liiiiife—not just letting it happen to me. For me, the best time of day to take everything in and really reflect is the morning before everything else takes over—the e-mails, training sessions, boot camps, cycling classes, friends, family, etc. Now I have a crazy delicious, hassle-free option to add to my weekly menu that's getting me to slooooow down and take care of myself. On top of the fact that it tastes amazing, Quaker Overnight Oats seriously contribute to my fiber intake for the day with 10 grams of fat or less per container. BOOYAH. Today the Blueberry Vanilla & Banana Bliss flavor got me pumped for the back-to-back cycling classes I taught here in LA and helped keep me energized the whole way through. Can't ask for much more from my breakfast than that!
I'm so glad I had the opportunity to try Quaker Overnight Oats and share about it with you—you're next! Try 'em out and let me know what you think!

BACK