How to Stick to Your New Year's Goals — Once and For All!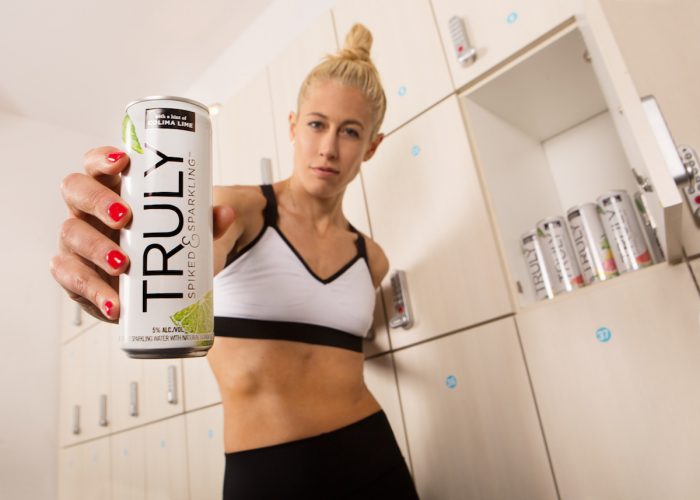 Post sponsored by Truly Spiked & Sparkling.
Christmas, Hanukkah, Kwanzaa, and Festivus may be over but as we head into the New Year, many of us have set goals for ourselves to achieve for the year. With that in mind, I want to share some ways to stick to them!
How to Stick to Your New Year's Goals Once and for All
Now that the dust has settled and the new year jitters are calming down, it's time to think about what you really want out of 2018. I don't like the word resolutions because it's associated with failure for so many people. I like the words dreams and goals. Sometimes you don't know what your goals are because you've stopped dreaming about what's possible for your life, your career, your health. You're stuck in old patterns that haven't worked for you so you may feel hopeless and a lack of motivation for your future, right?
When it comes to health, one of the biggest mistakes I see people make is getting into the game for a reason that won't last—to fit into that dress for a wedding, to look great for a high school reunion, etc. The truth is, fitness is a long game and the only way to get the results you want and KEEP IT UP is to make it part of the very fabric of who you are. That's why instead of pursuing a short-term challenge like "Dry January," I want to encourage you to live a lifestyle of moderation. If you enjoy adult beverages, just try skipping the sugary, high-calorie ones for something that won't derail your progress, like Truly Spiked & Sparkling which only has 1 gram of sugars and 100 calories. Cutting things out cold turkey will often result in either bingeing later or rapid weight gain after significant weight loss. The positive choices you make in the first few months of the new year will set you up for long-term success—you got this!
New Year Exercise
I use this exercise every year to break free of my self-imposed boundaries and create what's possible for my future. It helps me stay on track, grateful, and inspired for what's possible. I encourage all of you to try it—it will help set the tone for 2018.
Write a list of everything you're grateful for from 2017.
Tally up everything you accomplished in 2017.
Set goals for yourself personally, professionally, and physically for 2018—even the things that seem impossible and you might not normally share with others because they are so lofty.
For the next 365 days, re-read your dream goals and put in the effort every single day to make them happen.
However you kick off the new year, always remember fitness is a long game and life is meant to be enjoyed. Focus on balance and keep it moving!
Be well,
-Lacey Xx
P.S. To enter to win a trip to LA to train with me and enjoy a post-workout celebration with Truly, visit www.trulywellnessgetaway.com! No purchase necessary, sweepstakes open to 21+ years.

BACK